The 2017 IABC Detroit Renaissance Awards "Call for Entries" will begin in late March or early April, a few months later than usual.
The company we have used in the past for online judging is closing its doors effective May 1. This made it impossible for IABC Detroit to continue with the Renaissance Awards on its previous schedule. Instead of doing away with the program, we decided to push everything back a few months.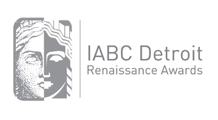 IABC Headquarters is currently in the process of finalizing a deal with a new judging platform that will provide similar functionality.  In the meantime, the Renaissance Award team is hard at work redefining the categories and guidelines to better reflect the type of communications programs we develop and implement for our organizations and clients.
In the meantime, mark your calendars for Wednesday, September 13, 2017 for the first-ever IABC Detroit Renaissance Awards Luncheon, taking place at Noon at The Henry in Dearborn.
Watch your email for future updates. And if you have any questions or concerns, please free to contact Debra Salem at 313.203.3032.
---
For 35 years, the IABC Detroit Renaissance Awards have set the bar high for communicators, not just in our local community. In addition to the IABC Renaissance Awards of Excellence, Honor and Merit, winning entries also are juried and may qualify for Best of Show. Our Renaissance Award winners often continue honing their skill by entering the Silver Quill regional awards and the Gold Quill International awards.
---
2016 Renaissance Award Winners
Division 1 – Communication Research Management
Category:  External Communication Research
AWARD OF EXCELLENCE
Provider Manuals: What do users want?
Blue Cross Blue Shield of Michigan and Blue Care Network
Catherine Vera-Burgos, Sharon McDonnell, Elizabeth Donoghue Colvin, Kelly Guthrie, Lisa Taylor, Kristin Heitmeier, Janise Plata, Sherri Dansby
Division 2 – Communication Management
Category:  Internal Communication Measurement
AWARD OF EXCELLENCE
Hitting the Road With a New Auto Company in Michigan
Allstate Insurance
Trisha Thompson, Meghan Cass, Ryan Foster
Category:  Employee Engagement
AWARD OF MERIT
How I Use My Ride: 2016 Employee Calendar
FCA US Internal Communications
Michael McBride, Koo Kim
Category:  Employee Engagement
AWARD OF EXCELLENCE
Mercedes-Benz Financial Services – Week of Caring
Mercedes Benz Financial Services
Category: Change Communication
AWARD OF MERIT
PeopleSource Change Communication
Linx Consulting, LLC
Janie Brill, Hasbro PeopleSource Change Communication
Category: Media Relations
AWARD OF EXCELLENCE
Chevrolet Find New Roads Trip
MSLGROUP Detroit
Category: Media Relations
AWARD OF EXCELLENCE
TEAM Schostak Family Restaurants: A Local Focus on National Brands
Identity
Andrea Trapani, Amanda Braniecki, Nikki Little, Morgan Mark
Category: Customer Relations
AWARD OF MERIT
Healthy Living and Lifestyle Improvement Campaign
Blue Care Network of Michigan
Jaclyn Wing, Cathy Rauckis
Category: Advertising Campaigns
AWARD OF MERIT
Blue Cross Blue Shield of Michigan Brand Advertising Campaign: "Connections"
Blue Cross Blue Shield of Michigan
Category: Marketing Communication
AWARD OF EXCELLENCE
FCA Pilot for Avoidable ER Use
Blue Cross Blue Shield of Michigan
Katie Bores, Jason Machasic, Joe Lieblang, Stefanie Hodgson, Meagan Mommersteeg
Category: Corporate Social Responsibility
AWARD OF MERIT
Experiencing Perspectives Art Program
Mercedes-Benz Financial Services
Category: Issues Management and Crisis Communication
AWARD OF EXCELLENCE
King v. Burwell Communication Plan
Health Alliance Plan
Tiffany Baker
Category: Non-profit Campaigns
AWARD OF MERIT
Michigan Depression Glass Society – 43rd Annual Show
Jonathan Fuhrman, Jennifer Ganem
Category: Non-profit Campaigns
AWARD OF EXCELLENCE
The Salvation Army's Doing the Most Good Week Social Media Campaign
Franco Public Relations Group
Category: Social Media Programs
AWARD OF HONOR
Blue Care Network Facebook Page Antibiotic Awareness Campaign
Blue Care Network
Division 3 – Communication Skills
 Category: Audio Visual
AWARD OF HONOR
LTU Student Stories
Lawrence Technological University
Sharon MacDonell, Anne Adamus, Bruce Annett
Category: Publications
AWARD OF HONOR
Experiencing Perspectives Art Exhibition Catalogue
Mercedes-Benz Financial Services
Category: Publication Design
AWARD OF MERIT
LTU Teaser
Lawrence Technological University
Sofia Lulgjuraj, Anne Adamus
Category: Publication Design
AWARD OF HONOR
How I Use My Ride: 2016 Employee Calendar
FCA US Communications
Michael McBride, Koo Kim
Category: Other Graphic Design
AWARD OF HONOR
Thanksgiving Card
Lawrence Technological University
Sofia Lulgjuraj, Anne Adamus
Category: Other Graphic Design
AWARD OF HONOR
How I Use My Ride: 2016 Employee Calendar
FCA US Communications
Michael McBride, Koo Kim
Category: Photography Within a Communications Vehicle
AWARD OF HONOR
Photography as an Essential Part of Social Storytelling
Blue Cross Blue Shield of Michigan
Andy Hetzel, David Murray, Michael Miller, BCBSM Social Media Team
Category: Digital Communication – newsletters, annual reports, special publications
AWARD OF MERIT
Newsstand: Refreshing the Communication Process
Allstate Insurance Company
Ryan Foster
Category: Digital Communication Channels – websites, intranets
AWARD OF HONOR
Blue IQ
Blue Cross Blue Shield of Michigan
Blue Cross Blue Shield of Michigan Employee Communications
Category: Digital Communication Channels – websites, intranets
AWARD OF HONOR
Redesigned Kresge.org Website
The Kresge Foundation
Cynthia B. Shaw, Mark Whitney, Jennifer Kulczycki
Category: Digital Communication Channels – websites, intranets
AWARD OF EXCELLENCE
ThinkHealth digital magazine
Weber Shandwick and Priority Health
Category: Writing – corporate
AWARD OF MERIT
ReThink – Communicating Culture Change
Health Alliance Plan
Erin Johnson
---