Madison Heights, MI, Sept. 5, 2019 – The International Association of Business Communicators (IABC) Detroit chapter announced today that Rich Homberg, president and CEO of Detroit Public Television (DPTV), is the organization's 2019 Communicator of the Year (COTY).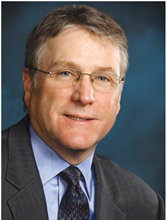 IABC Detroit presents this prestigious award annually to honor a leader who has demonstrated excellence in the communications field. IABC Detroit Communicator of the Year honorees are selected based on their professional achievements, leadership and commitment to advancing the communications process in an organization. Rich will be officially recognized at IABC Detroit's Renaissance Awards and Professional Communicators Celebration on October 17.
"Rich Homberg brings a unique blend of business acumen, creativity and humanity to his work and the communications profession," said IABC Detroit President Peter Ternes. "He continues to provide inspiration, innovation and consistent excellence to DPTV and to the Metro Detroit area. This award is well deserved."
As president and CEO of DPTV, Homberg oversees four television stations – including the main channel (56.1/WTVS), a new 24/7 Detroit PBS Kids Channel, the Create Channel and World Channel, as well as related online platforms, and WRCJ 90.9, the city's only jazz and classical radio station. DPTV's broadcasts reach over 2 million people each week, with another 500,000 visiting its digital and social media channel and 200,000 tuning into WRCJ. He is widely considered one of most dynamic innovators in public media, propelling DPTV to new heights of local engagement, content and public service.
Homberg often calls Detroit "the most important city in America." He believes it's a city on the verge of revitalization, wrestling with the challenge of ensuring that all members of the community profit from the civic comeback. He takes special pride that DPTV has the most diverse audience of any PBS station in the country. Building bridges of communication and engagement, DPTV seeks to foster understanding and solidarity throughout metro Detroit.
A native of Florence, New Jersey, Homberg earned his B.A. in Communications from Temple University in 1978. He lives in Bloomfield Hills with his wife Tracey of 33 years and is the proud father of Nicholas Homberg.
ABOUT IABC Detroit
IABC Detroit is the Michigan chapter of the International Association of Business Communicators. Since 1945 IABC Detroit has offered informational programs, networking opportunities and recognition events to promote and celebrate communications excellence. The organization has more than 125 chapter members working in Michigan corporations, non-profits, agencies and universities.